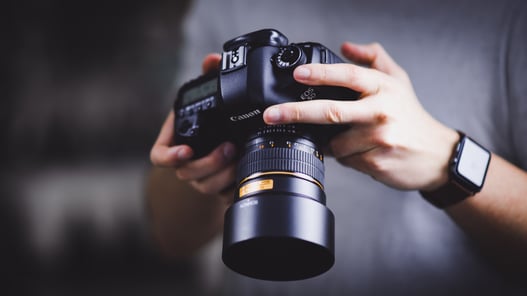 When investing in your jewelry store's website it's important to thoughtfully plan the photography of the jewelry you are selling to properly showcase the beauty of each piece. You may not consider yourself much of a photographer, but today's smartphones are particularly adept at not just taking high quality photos, but making the object in your photo, in this case jewelry, look phenomenal.
Of course, you can simply put your jewelry on a white background, let in some natural light, and have the makings of a good photo, but ensuring the photos are professional and really showcase every aspect of the jewelry is important to consider and invest in.
In order to take the best photos of jewelry for your website, it's a good idea to make sure you've got the right tools to work with. Fortunately, you likely already have most of what you need (or can get it relatively easily).
A Source of Soft, Natural Light
The best way to do this without investing in a lot of fancy lighting is to find a large window or other source of ample, natural light. As you get closer to the product, the lighting will make your photo appear softer. Being farther away makes the edges look sharper and more defined. There is no right or wrong way to do this -- it all depends on the style you want your product photos to convey. Sticking with the same amount of light for all photos for image consistency and aesthetic of your website is key.
Using The Right Smartphone
Ideally, you'll want to have a 12 megapixel smartphone camera, such as the iPhone 8 or Samsung Galaxy S8, the Huawei P20 Pro or Google Pixel 2. The more megapixels your smartphone camera has, the better the result with your photos.
It's also a great idea to get a small tripod to help make for more stable shots and consistent distance. This will also help free up hands to focus on changing in and out products once your phone is set up properly.
A White Background
You want to ensure that your product is evenly lit with a soft, not harsh, light, and having a white background (either a backdrop or poster board) can help make that possible.
Lifestyle Imagery
To take your jewelry photos to the next level, incorporating lifestyle imagery will showcase the pieces true to size and on a model. Having a stack of rings on a model's hand or stud earrings actually in an ear will bring to life the jewelry for potential buyers as they browse your website or social media feed.
Take Product Photos from Different Angles
Don't forget that images drive conversions, so taking an image of your product from different angles, including front, sides, top and even being worn can help create the perfect image in the buyer's mind of how the piece will look on them. The moment a shopper can visualize themselves wearing it, you've nearly sold them.
Use GemLightbox for Stunning Photos
GemLightbox is a combination device and app that works with your smartphone (Android or iPhone) and allows you to take studio-quality photos. It also comes with optional accessories that help make for better aerial shots or professional-grade 360-degree videos. If you're interested in taking your own photos, GemLightbox is a fantastic investment. It especially pays for itself if you have several pieces of inventory and you want to create both multi-angled photos, videos and more.
Partner with a Local Photographer
This can be a great way to partner with someone in your local community who has an arsenal of high end cameras and lenses. Wedding photographers are seasoned at shooting engagement rings and detail shots and typically have a style of their own. Do some research and ask for engagement ring photos from shoots they have done so you can see the jewelry captured before deciding on a photography partner. Another tip is to divide up the cost of the photographer's time into the retail price of the jewelry itself. This way, you're assured of the best possible photos at a great price, and you'll be helping out a fellow business owner in the process.
Rely on Vendor Imagery with JewelCloud
Aside from taking photos of your own jewelry inventory, many jewelry stores rely on vendor provided imagery to populate their website. With jewelry assortments and collections from over 100 jewelry designers, our JewelCloud platform provides jewelers with quality data that is centrally managed for them. JewelCloud is now available in the Shopify App Store, giving jewelers the ease of simply downloading the JewelCloud app to their Shopify website and connecting to their approved jewelry brands.
You've Got Amazing Jewelry Photos -- Now What?
If something like uploading photos to your website has turned into a time-consuming process, let us help. At GemFind Digital Solutions, we bring over 20 years of jewelry marketing and website development experience to design beautiful, high-converting websites that get results. We also offer Edge Integration and assist jewelers all over the nation in managing this process seamlessly.
Contact us today to learn more and to get a free consultation. We're here to provide you full-service jewelry website design and digital marketing solutions to help position your company as the best possible choice for your customers. Reach out to us today to learn more!