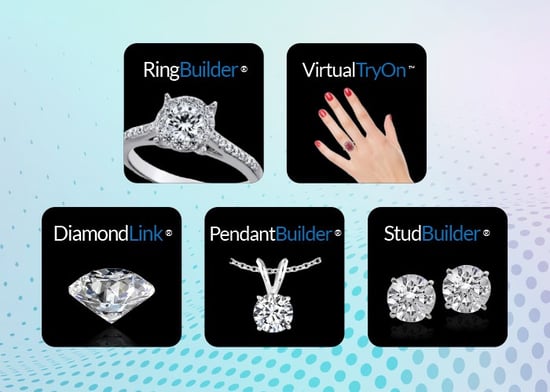 If you're looking for innovative ways to sell more jewelry online, there are solutions for jewelers of all sizes to be forward thinking and offer the latest technology. There are always large, well-established jewelers who have deeper pockets and can outspend you on the most lucrative keywords simply by virtue of their size and buying power- but optimizing your own website to convert sales with the right tools is a great option.
The key for smaller, more boutique jewelers to get a competitive edge? Delivering what the big brands cannot, and that means concentrating on a phenomenal customer experience from start to finish.
The question then becomes, how do you give customers a great experience online just like you give in your store? Interactivity is how.
At GemFind, we've made helping jewelry stores our focus for over 20 years. As one of the first digital marketing companies exclusively created for the jewelry industry, we know what works to help you sell more jewelry online. That's why we're proud to have poured our knowledge, expertise and experience in developing online apps and services that make it easy for you to give your customers a one-of-a-kind jewelry shopping experience.
Here's what we offer for online tools for jewelers:
DiamondLink
DiamondLink lets website visitors search for the diamond of their dreams using suppliers and vendors that you select. Through DiamondLink's advanced reporting, you can integrate a robust diamond search directly into your website that combines your own site's look and feel along with a responsive, user-friendly search that works on any device!
Plus, you can put DiamondLink to work right away with no maintenance or equipment costs to maintain. You choose the diamonds, the suppliers, the markup and more and display it all on your website seamlessly. Our DiamondLink also offers both natural and lab grown vendors to meet the needs of every jeweler and designer's website needs.
RingBuilder
From carat and weight to stone and setting, RingBuilder is the fun, interactive way to let your visitors create the ring they've always wanted- using a highly interactive and intuitive process. RingBuilder works with your existing diamond inventory and vendors in our DiamondLink network to showcase multiple settings of rings and styles. Partnering with Overnight Mountings vast mounting styles, there is something for everyone in the engagement ring market to choose from.
Plus, just like with DiamondLink, RingBuilder is designed to mimic the look and feel of your website, giving customers a fun new way to shop for and build their ideal ring.
Newest to our RingBuilder is the integration of our Virtual Try On technology with the RingBuilder- so website visitors can "try on" a ring in real time via their smartphone or laptop camera.
PendantBuilder
The fully responsive design of our unique PendantBuilder allows users to customize the look of their pendant's design using different stones, settings, metals and more, creating a gorgeous style that perfectly aligns to your existing inventory, making it easy for you to cater to their needs through an intuitive and easy-to-use app-like interface.
StudBuilder
Like with DiamondLink and RingBuilder, StudBuilder lets users customize their ideal pair of earrings from over a million different combinations. With social media integration and Point of Sale integration, users can easily show off their new creations and visualize their design before it's finished.
It scans through approximately 1,000,000 possible combinations to create your customer's desired "perfect pair" of stud earrings, based off of their preferred search criteria.
With diamond studs being a forever timeless style for personal purchase or jewelry gift, the StudBuilder is proven to convert more sales and offer an interactive experience for your website visitors.
Virtual Try-On
There's nothing like being able to see exactly how a piece of jewelry complements your natural beauty. But what if you're buying online from a jewelry store thousands of miles away? Our Virtual Try-On option is perfect for you.
Compatible with Wordpress, Shopify and Magento stores, this unique add-on uses a customers' laptop or mobile camera to show them precisely how a chosen piece will look on them, giving them even more unique ways to engage with your jewelry and buy from you.
Virtual Try On can integrate with our RingBuilder tool or your own inventory- however, there are photo requirements to making sure this tool works properly.
Shopify App Store
Many of our award-winning apps are compatible with online jewelry stores using Shopify. Both DiamondLink and RingBuilder can be found in the Shopify Apps section of their website, ready to install. If GemFind has built your jewelry store website, you can also take advantage of our GemFind JewelCloud which lets you import your jewelry data seamlessly into Shopify with no hassle and no cumbersome programming or development needed.
Each of these tools has been meticulously crafted by GemFind to help give jewelry store owners and their customers an easy way to engage with the site beyond just "buying jewelry online". Learn more about each of our tools and schedule a free consultation with us if you'd like to integrate any or all of these unique "facets" into your own jewelry store website design!