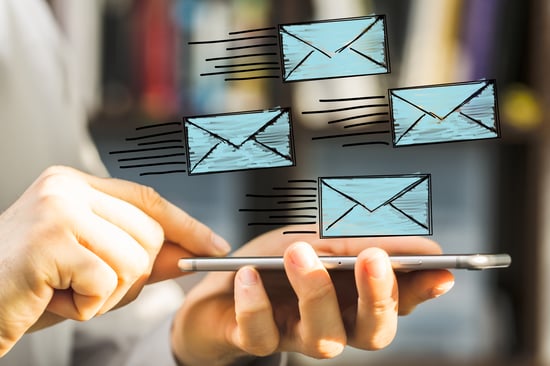 Email marketing is one of the oldest forms of online marketing, but it's not about to be outdone by social media, video marketing or any other form of new and shiny advertising. Despite its age, email marketing still remains one of the most valuable ways to market your jewelry business online.
However, utilizing your email list to the max potential is key.
It can be incredibly tempting to sign up with an email marketing service and just start blasting out emails to anyone and everyone. After all, who doesn't love jewelry? Although many people do, there are an even greater number of people who don't like unsolicited email, and that can signal the end of your email marketing strategy before it ever even got off the ground.
The good news is that there's a better way forward -- a way in which you can grow your email list as well as market to your clients and prospects in such a way that your emails are welcomed. Done right, your prospects might even look forward to receiving them, and who could want more than that?
Here's how to not only nurture your list, but help encourage them to engage with your email marketing campaigns, each and every time you press Send.
Keep Customers Informed with Newsletters
You might think your customers will just make a one-time purchase on your jewelry store website, therefore they wouldn't have any interest in receiving a newsletter, but you'd be surprised!
That's why it's never a bad idea to commit to sending out a newsletter to your email list, just to update them on what is going on at your store. Is there a new jewelry designer you want to introduce? A charity you are supporting? Even a new associate or associate of the month. Get Creative and Make it Personal.
Encourage Responses to Your Marketing Campaigns
You don't have to wait for the holidays to create a riveting marketing campaign. As with any business, merchandise needs to move, and there are few better ways to make it move than by offering solid discounts. Free shipping is one of the biggest motivators, but it's certainly not the only one.
In fact, testing out different types of marketing campaigns will give you a better idea of what the subscribers on your list really want. It will also help you further refine your marketing campaigns to tailor them to the needs of your customers.
Keep Users in the Loop with Announcements
Everyone loves to be in the know, and for jewelry lovers, getting a new announcement of a new designer line, new products and more can be a great boost to your email marketing campaign. Polished, well-designed newsletters can achieve this by keeping in mind mobile responsiveness (so that they'll load and look great on any device) and through the use of rich media, like videos or high resolution photos.
Provide Education
Remember with your email marketing, it is not just about selling, it is so much more and can be used as an educational piece. Including information about gemstones, diamond cuts, ways to stack rings, layer necklaces etc, are all more engaging and personal. Take time to map out ideas for each month that include a good mix of both education and styling tips and pieces to buy.
Segment Your List
Keeping your email list up to date and with specific interests and categories is a great way to target and email customers based on their likes and stage of life in jewelry buying. For instance, if you are having a wedding band event or sale, make sure that goes to all your engagement ring clients in the past 6-9 months. Keeping it personal and relative will increase your engagement and open rates.
Invite Them to a Virtual Event
Speaking of announcements, you can take an email announcement to a whole new level through the use of a virtual event. Using 360-degree showroom features, you can highlight your newest pieces, answer questions from your subscribers, show off jewelry in greater detail, educate your customers on the differences on things like diamonds or karats, and much more.
More than anything, this gives you the opportunity to put your jewelry store front-of-mind with your customers, giving them multiple ways to connect with you in a way that is authentic and genuine.
Of course, if you need inspiration for your next email marketing campaign for your jewelry store or you want to learn how to use email more effectively for your own jewelry website clients, why not get in touch with us at GemFind Digital Solutions? Working with jewelers is all we do, so we know how to do it right. Contact us to learn more about our comprehensive email marketing and design solutions!