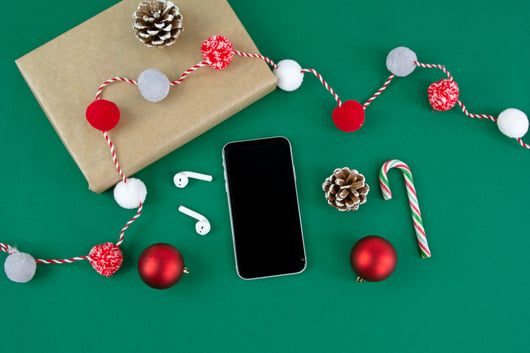 The excitement around in store holiday events and jewelry trunk shows certainly looks different this year for jewelers across the country. As many already have pivoted to promoting virtual appointments and private in store appointments, there are still many ways to bring the special holiday in store events to your clients in the comfort of their homes and generate those sales. Hosting virtual events on social media that bring people together and give them an "event" to look forward to attending is a great way to feature all of the jewelry pieces that are on your holiday gift guide and bring a personalized experience from your store to those clients shopping online.
As a jewelry store owner, with that sentiment in mind, here's how you can make the most of the holiday season and still encourage more purchases through virtual channels. Even if it is something you have never done before, now is the time to give virtual events a try!
Stir Up Excitement via Social Media
Social Media channels such as Facebook and Instagram are where most consumers spend their time and there's no better place to connect with your target audience and drum up excitement for a virtual event. Posting on your Instagram stories and boosting posts on Facebook and Instagram will provide you the opportunity to target current followers as well as demographics in your target zip codes and similar interests to jewelry.
Don't Forget About Email
Email is another often forgotten channel to leverage in order to get people interested in your event. Of course, we get hundreds (if not thousands) emails a day, so your email should be eye-catching and exciting. Make use of great compelling copy to get people interested and include a link to allow them to register so that they can get notified as it gets closer to time of your virtual event.
Create Your Event on Facebook Live
This is where your planning and efforts can all come together. A Facebook live event is an unrehearsed presentation where your actual event can take place. Encourage your viewers to grab a glass of wine and cozy up on their couch for your event since that is the beauty of a virtual event! Make it luxury and special in presentation with added elements in your backdrop; such as holiday decor in your jewelry store and holiday music in the background. Make sure the presenter or presenters are organized with jewelry pieces to show and models to showcase the jewelry if possible. Don't forget to introduce your store and staff so viewers become familiar with the faces they would see in the store if they do visit in the future.
Here are some ideas of Facebook Live Events to try this season:
Styling Your Stack (showcase stacking rings and bracelets that women love)

Holiday Gifts for All Price Points (focus on jewelry at multiple price points)

Hot Personalized Pieces for 2021 (think all the trendy engravable pieces like bar necklaces etc.)

Layer Up for Winter! (demonstrate how to layer all of those beautiful necklaces)

Dazzling Diamonds (diamond studs, anniversary bands, engagement rings, diamonds by the yard etc.)
Whatever style of jewelry you specialize in, your Facebook Live event will showcase it in a way that positions it front-of-mind for your attendees. Think of it as an online fashion show, but for jewelry. You'll get to see attendees comments and questions and answer them live for them which creates such a fun and personalized experience.
Create a Contest
Another great strategy to make the most out of your digital jewelry event is to create a contest or a giveaway. Everyone loves the prospect of winning, and depending on what the prize is and what's necessary to enter to win it, people will definitely sign up to attend and tag their friends which will further your event reach. You can be creative with this and come up with great ideas. Such as, first attendee to log on wins a pair of pearl studs etc. This can be a fun way to interact during the event as well, giving things away through the event as well.
Use Video to Showcase Jewelry from Every Angle
Video is a hugely popular option and is a must-have for digital events. Creating detailed videos about your products, showing them from different angles and being worn is the perfect way to show off the intricate details and superb craftsmanship of each piece. Consider things like 360-degree videos to add an exquisite layer of elegance to your event.
Focus on Gift Guides and Link Back to Your Site
Finally, since it is a digital event, it is a good idea to follow up with things like sharing a gift guide link that attendees can click on and download. These valuable after-event assets can be as simple or as detailed as you like- but it is important not to get too bogged down in the presentation and concentrate also on capturing the attendees info so you can follow up and close sales. Also, providing a raffle element to email capture is a great way to have people more readily give their email to you.
And if you're looking for other unique strategies to stand out, why not reach out to our jewelry store marketing experts at GemFind Digital Solutions? Our extensive knowledge of the jewelry industry and how to market your business will help you stand apart from your competitors while keeping your brand fresh in consumers' minds. We have Digital Marketing packages for December promotions and are generating sales for our jewelry store clients every day online. Our proven strategies and exemplary design can help you do all that and more. Contact us today to get started or to learn more!