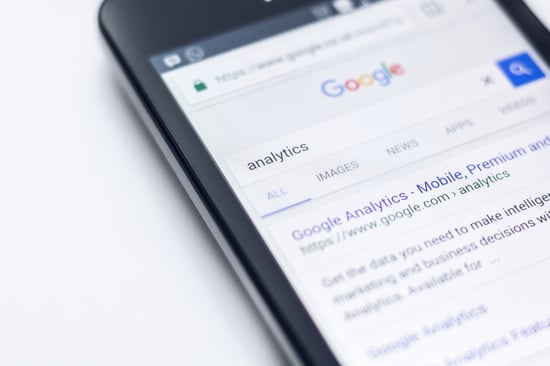 One of the things that most excites, frustrates, and scares website owners is the inevitable Google algorithm update. But what exactly is a Google algorithm update, and why does it bring along with it such trepidation? Even more importantly, what can you, as a jewelry website owner, do to be prepared?
Understanding Google's Algorithm Updates
Much like the layers under the Earth settle and tectonic plates move, causing earthquakes, Google sometimes makes changes to its algorithm, causing websites that previously ranked well to suddenly fall off of the coveted first page, or disappear from the rankings altogether. But Google doesn't just make these updates on a whim. They're part of its ever-increasing plan to connect searchers with more relevant answers to their questions, more detailed information, or what have you.
Think of an algorithm as a set of instructions that encompass over 200 different facets that control how Google ranks different websites. With the change of one or two of these "instructions, suddenly sites can disappear completely, since the criteria they were following is no longer as important as it once was, and sites that were relatively obscure can suddenly hit the top of the pile.
With that being said, let's move on to the latest algorithm update that is about to be rolled out.
Google's Page Experience Algorithm Update
Google's Page Experience Algorithm Update was originally going to be rolled out last spring in 2020. Because of Coronavirus, Google delayed the algorithm update which is now looming over us for a May launch.
So, what's the Page Experience update and how can you prepare for it?
In Google's own words, here is what it means…
The page experience signal measures aspects of how users perceive the experience of interacting with a web page. Optimizing for these factors makes the web more delightful for users across all web browsers and surfaces, and helps sites evolve towards user expectations on mobile. We believe this will contribute to business success on the web as users grow more engaged and can transact with less friction.
In other words, they are looking for how usable your website is.
The Importance of Strong User Experience While Balancing the Need for Quality Content
Page experience includes all aspects of how users interact with a web page and how good or painful it is for them.

This includes existing Google Search signals: mobile-friendliness, safe-browsing, HTTPS, and intrusive interstitial guidelines.

It also includes metrics in Google's Web Vitals. Currently, the focus is on three facets: loading, interactivity, and visual stability.
Loading, in this context, measures perceived load speed. That's the point in the page load timeline when the main content is likely to have loaded.
Interactivity is the time from when a user first interacts with a page – a click or a tap, for example — to the time when the browser begins processing that interaction.
Visual stability has to do with preventing annoying and unexpected movement of page content.
Why you should pay attention to this algorithm update
The fact remains that the new page experience metrics should be taken seriously by developers and all those involved in optimization strategies to improve search rankings.

To begin with, if your user experience is seen as being in the top bracket, visual cues will guide consumers and browsers to your page over the others.

Google itself is pretty clear about the increased weightage they're going to give to page experience. After all, a terrific page experience lets people get more done and increases engagement.

It seems evident that those pages which fall below the new benchmarks are going to be left behind in the rankings. This means a significant drop in traffic.

Google already considers hundreds of aspects to determine rankings. The inclusion of page experience lets them guide people, so they can access information more easily and enjoyably.

For site owners and others, understanding these signals and making the necessary changes should be a priority.

Otherwise, you run the risk of your page being ignored. You wouldn't want that now, would you?

Let's start with a bad page experience.
Before we get down to understanding how to improve page experience, let's understand what a bad page experience is.
Slow page speeds: You know how frustrating it can be to click on a search result and then wait for a page to load. It may be a few seconds, but it feels like an eternity. Chances are, your consumers feel the same way and are put off.
Bad structure and design: Even if the page loads quickly, there are times when it can be confusing to navigate. This could be because the design is cliched or just puzzling. There could be too many pop-ups. There could be no proper content structure. Looking for information here could be like looking for a needle in a haystack.
Lack of engagement. Unfortunately, too many websites simply assume that their only purpose is to sell. But today's consumer wants to be engaged with, wants to be entertained, and wants to be understood. That's why empathy and likeability are important factors.
So Is There a Way to Make Your Website "Future-Proof" With Google?
Knowing that Google can change its algorithm on whim begs the question, "Is there a way to make my site future-proof" with Google? The thing to know, rather than chasing after trends, is to understand that at its core, Google's goal is to connect its users with relevant, rich, detailed content. Google pays much less attention now to specific keywords and more to user intent -- why is the user searching for this and will the pages I deliver to them answer that search and give them what they need?
Today's Google searches should focus less on "How do I rank for the keyword 'diamond engagement rings' (for example), and instead ask, "How can I give searchers the best possible information and selection when they search for 'diamond engagement rings'?
As a jewelry store owner, you need to be ready to pivot as Google morphs into less of a search engine and more of a user-centered "experience engine". Expect that it will come to "grade" your information not just in terms of how big of a selection of diamond engagement rings you have, but also how you guide the user through choosing "The One" for "The One".
So What Changes Should You Concentrate On to Rank Your Jewelry Website?
In order to make sure your jewelry store website ranks well, pay special attention to the very same factors that Google is looking at in order to help your jewelry store website rank well:
Mobile Website Optimization
The most important change you can make, if you haven't already, is to make your jewelry website mobile friendly. Google wants searchers, whether they're on a PC, laptop, tablet, phone or whatever may come, to be able to easily navigate your website. That means making sure your design is responsive across a variety of devices.
If you're not sure, try to navigate your website from your own cell phone and ask your colleagues to do the same. How hard or easy is it to find what you're looking for? Now imagine how your customers and prospects are doing it, having perhaps never seen your site yet wanting to know more about what you have to offer.
Structured Data Markup
This is a fancy way of telling the search engines what your site is about. Not only that, but what kind of content you have and how it's organized. For example, you've likely seen those stars that appear under some products in Google listings, as well as other features like menus from restaurants and layouts of recipes. When Google knows what kind of content you're sharing, it can better lay out that content in the search results.
Fortunately including this type of markup in your site is very simple and only takes a few minutes. It's very straightforward, especially if you have a Shopify jewelry store.
Backlinks Still Have Some Value
It used to be that the worth of a site was measured in its backlinks. The higher the quality of the backlink, the more authoritative the site. Since that led to the entire buying and selling of a whole backlinks industry, Google scaled back on the process of backlinks as the be-all end-all of site credibility.
They do, however, still have value and are worth getting, but go about it by having great content and reaching out to non-competitive, complementary sites, not any site and every site you think will link back to you just because they have a high domain authority.
Keywords Still Matter
Just like with backlinks, there was a time (farther back along Google's algorithm journey), that Google used as signals to determine the ranking of a site. Keywords were one of those indicators. These days, because keywords can be so easily manipulated, they also don't figure as heavily in Google's overall ranking algorithm as they did in the past. But that's not to say that they're worthless. Concentrating on long-tail keywords, or those used in very specific searches, can be a great way to target and attract your ideal buyer. For example, instead of "diamond engagement rings" you may get more users looking for "princess cut diamond engagement ring 24 karat gold".
It's a much longer phrase, but easier to rank for than the often-searched "diamond engagement rings" and because it's so specific, the user doing the search is also much more likely to buy than someone who is "just looking".
Move Toward Conversations
Today more than ever, search is evolving into two-way conversations. That means less searching for "diamond engagement rings" and more searching for "where do I find a diamond engagement ring with sapphire accents?" As you can see, with this evolution also comes the need to evolve with the times and make sure that your site is optimized the best it can be to become the ultimate resource for your searchers.
And that's precisely why GemFind Digital Solutions is here to help you every step of the way with engaging content, unique services, flawless responsive design, comprehensive marketing services and much more. If you're a jewelry store website owner who needs to revamp their site and you're looking for a way to keep your site in Google's good graces, look no further than our complete marketing and design services. Contact us today to learn more!