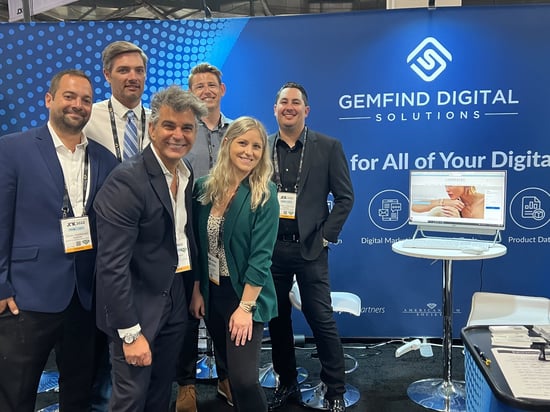 Get ready for JCK! The BIGGEST jewelry show is coming up in a few short weeks and we'll be there! With over 2,300 exhibiting vendors from around the globe, we know jewelers come to JCK with an agenda and jam pack their days by viewing new product lines, meeting with their existing jewelry designers to write orders, and seeking out new, fresh jewelry for their stores.
Our focus is to bring jewelers and vendors the newest technology in the jewelry industry and to be your digital partner to grow your business!
We invite you to come meet our expert team at Booth #58055 in the Edge Village Essentials & Tech Pavilion.
What You Can Expect When We Meet
We've got lots of great services designed to help you convert more sales and drive more traffic to your store, spanning from cutting edge Shopify websites, diamond and vendor product apps, to more extensive business plans for full service digital marketing.
Shopify Website Solutions
Our development team is highly skilled at making the transition to Shopify as easy as possible for jewelry store owners. With our tried and true onboarding process for new clients, we aim to make the website building process a very easy one- so jewelers can continue to focus on their daily store operations. The look and feel of each website is tailored and unique to each jewelry store, however follows a template that GemFind has developed to be highly optimized for jewelry businesses.
If you are looking for a new website to take your jewelry business to the next level, this is the perfect opportunity to meet with us! Here are what some of our client's say: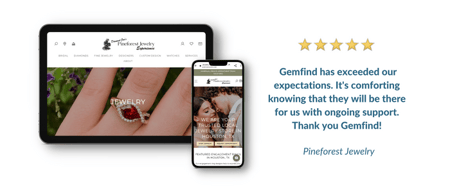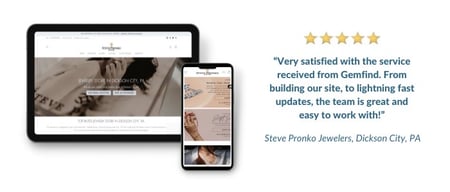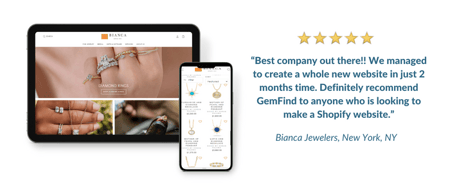 Unique Shopify Apps Designed for Jewelry Stores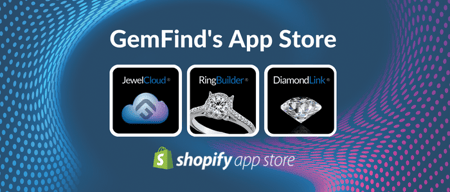 Discover our online apps for jewelers in the Shopify app store, like RingBuilder® which lets prospects design their perfect engagement ring right from within your website with no complicated programming or complex plugins to install. GemFind's DiamondLink® is the most comprehensive diamond search, connecting you to hundreds of diamond suppliers both natural and lab grown – all integrated with your Shopify site, brand colors and design! Our JewelCloud® app allows you to connect directly with your jewelry designer's current inventory and product data which makes updating your jewelry store's website a completely seamless process! Our apps are focused on Shopify, but can also integrate into other website open source platforms.
We also partner with Stuller for a shopping cart app so jewelers can maximize their online conversions with Stuller.
As you can see, our Apps are focused on helping jewelers with easy online solutions!
Comprehensive Digital Marketing
If managing your digital marketing budget and planning out where to advertise your jewelry business online is something you need a partner in, we would love to meet with you! Our team works diligently, daily, to optimize every dollar that our client's spend to make sure we are targeting the correct audience. From Google Ads, Email Marketing, Social Media, and PPC- our digital marketing team is made up of organized, smart, savvy, and driven individuals. We aim to have high ROI, optimize and strategize, for each and every client. Below is a screenshot of actual client results when they began working with GemFind!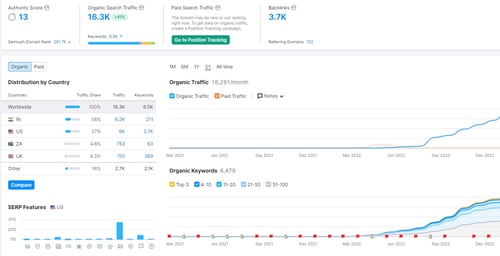 Book A Meeting and Get a FREE Competitive Analysis - A $2,000 Value!
Now that you know more about what you can expect from GemFind at JCK, we would love to get to know more about your goals for your jewelry store!
By booking an appointment with us at the show in advance you will receive a FREE Competitive Analysis which is a $2,000 Value! This "deep dive" into your business online gives you vital information about your local market, who the competitors are in your area, and opportunities for you to excel and improve your own online jewelry business.
Click here to book a meeting with GemFind
We look forward to meeting with you!