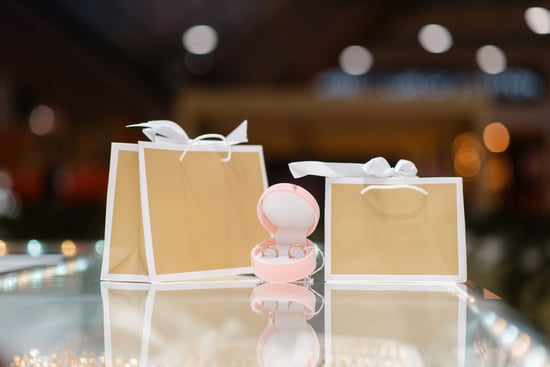 Get ready for weddings by following these tips to sell more bridal jewelry styles on your website, including engagement and wedding rings.
Summer is nearly here and with it, a time of engagements, weddings and other milestone moments in life. Jewelry is the hallmark of many such milestones and as such, brides-to-be understandably want to play a role in the selection and customization of their rings.
What you may be surprised to learn is that over 20% of brides visit jewelry retailers with their fiance to shop for or buy bridal jewelry. The revenue potential can be anywhere from $8,000-10,000 or more and during a busy bridal season like summer, the profits can add up quickly.
That's why you'll want to follow these tips from GemFind to sell more bridal styles on your website:
Keep Up with Jewelry Trends
Fashion websites or organizations like Jewelers of America can help you stay informed of the latest jewelry trends, including colors, styles and shapes of bridal jewelry. Most brides won't visit these particular pages, but they will see these types of fashion in magazines and the seemingly limitless array of bridal ideas online.
Therefore, it's a good idea to keep a couple different styles of this trendy wedding jewelry on hand, including both wedding bands and engagement rings for the happy couple.
Make Sure Your Website Appeals to Shoppers
This is so important but oftentimes, a jewelry store's website is looked at as more of an afterthought, particularly if you also have a brick and mortar store. Keep in mind, however, that newer generations, especially the 20 to 30-something crowd, are used to using technology and searching online for inspiration.
In addition, the next generation of brides is also environmentally conscious. They may shy away from traditionally ever-popular diamond engagement rings and instead look to more earthy options like colored stones and mixed metals.
One thing that all generations have in common is the sheer joy they feel at this stage in their life. You understandably want to make the experience as exciting as possible for her. This is the time to offer things like discounts or free in-store consultations. It's also possible that in addition to buying "the ring", she'll also want to browse other wedding jewelry for her special day.
Don't Neglect Personalization and Customization
Personalization and custom jewelry are also big sellers during this time. Don't be surprised if the bride-to-be asks if you can engrave or etch the ring with something meaningful like a date or a phrase. Another popular option is to take old family heirloom jewelry and use it in a new, custom-designed piece.
Keep in mind that colors for a themed wedding are still very much on trend, so it's a good idea to have various stones of different colors to match the color and tone of the wedding for those who want a complete package.
The Bottom Line on Selling More Bridal Jewelry
Don't forget that when you sell bridal jewelry, it's not a once-and-done sale. Offer things like free cleanings or free inspections or even discounted repairs. Bridal jewelry is a big purchase and you want to make sure the investment lasts. By offering these valuable services, you help to cultivate a long-term relationship not just with the bride, but also her extended (and new) family.
Who do you think she'll recommend when her best friend gets married, or the groom's little brother gets engaged? Bridal jewelry has a way of having a ripple-effect! In addition, long-term relationships with customers also ensures that you'll be able to offer suggestions as she continues into other milestones in life, such as having a baby, honoring a family member and much more.
If you're looking for unique ways to sell more bridal jewelry online just in time for summer, now's the time to reach out to GemFind Digital Solutions. Our decades of experience working with the jewelry industry in businesses large and small make us the best choice for jewelry stores who want to sell more bridal jewelry, including engagement rings, wedding bands and much more. Contact us today!