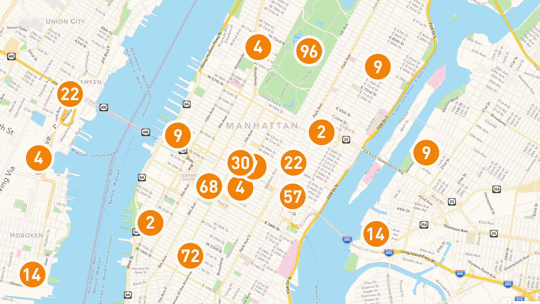 What if you could communicate with current, potential or even your competitor's customers? If you were a customer, wouldn't you like to know about deals or new products offered by the stores around you?
GeoFencing is a way of communicating with customers through the use of their smartphones. If you are interested in a new way to reach customers, GeoFencing is the best and most efficient way to get their attention.
What is GeoFencing?
To begin with, let's look at what GeoFencing is. GeoFencing works by creating a virtual or invisible boundary around your business or another designated area. When a mobile device, such as a smartphone, crosses that invisible fence, a response is triggered. The fence uses the GPS on the mobile device and RFID technology to determine that it has entered the space.
For businesses, this means that when a customer crosses the designated area that you have set up, his or her device will now start seeing your specific advertising messages on their mobile devices, through mobile apps and websites they visit.
Why Use GeoFencing?
GeoFencing is a way to engage with potential customers before they have even stepped foot inside of your store. When they view a message (through banner ads) from you when they are in your Geofenced location, they are more likely to stop and shop in your store. Millennials especially are committed to their mobile devices, with a reported 92 percent of millennials owning smartphones. By comparison, 85 percent of Gen Xers and 67 percent of Baby Boomers own smartphones.
As smartphones have become such an integral part of the majority of consumer's lives, using them to communicate with consumers is a completely new type of marketing. Wouldn't you like to know if a business nearby was offering a promotion or product that appealed to you?
Intent-Based Marketing
Another major benefit of GeoFencing that we cannot stress enough is the process of reaching potential customers that have intent to buy jewelry. Intent is the big difference when it comes to certain types of marketing efforts. Look at it this way; banner ads, social media ads, billboards are all visual forms of advertising that attempt to build brand awareness, while search engine marketing can get you in front of customers that are seeking out your service as potential customers are typing in keywords related to the products you sell. GeoFencing can be used in a similar way by targeting other jewelry store locations. If customers are visiting other locations, it doesn't mean they have purchased yet but are maybe considering where to purchase from. Now here's the opportunity to find customers with intent to buy jewelry. They are in another jewelry store, which is a huge indicator of intent. This is where the rubber meets the road and the big factor in what makes GeoFencing more affective than other advertising options out there.
Key Tips
A tip in order to make GeoFencing maximize the results is to make sure you track the visits to your website or landing page and utilize retargeting methods through Google and Facebook in order to improve your conversion rates and overall effectiveness of the campaigns.
The Future of Marketing
Our dependence on technology is continuing to grow, and with that, our marketing tactics need to adapt to meet those changes. GeoFencing is an innovative new tool that can help you reach out to the customers who might be looking for you.
If you would like to learn more about what GeoFencing can do for your jewelry business, contact GemFind today. GemFind's expert digital marketing team can help you adapt your marketing plan to meet the needs of these technological advancements.
There are customers out there just waiting to find you. Let them know that you are there.
For more information on how to use digital marketing, call GemFind.
GemFind has an experienced and knowledgeable marketing team waiting to help your business bloom.
Contact us today to get started. 800-373-4373