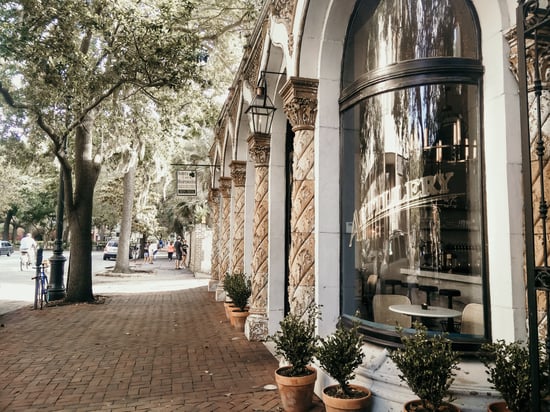 Are you looking for new ways to get local foot traffic into your jewelry store?
Geofencing could be an excellent way to attract customers and heighten interest in your jewelry store right in your community by marketing directly to them based on their location.
Mobile marketing has surged in popularity and is showing no signs of slowing down. That means using location-based marketing is now more important than ever. Geofencing being used for advertising isn't exactly a modern breakthrough, but it is becoming more and more popular, especially with the proliferation of smartphones today. But what exactly is geofencing and how can you use it to attract customers to your jewelry store? Keep reading for all the details:
What is Geofencing?
Geofencing is location-based marketing that's made possible when an app or other software uses an RFID (Radio Frequency Identification), a wifi signal, GPS or other cellular data as a trigger to initiate a specific action. That action can be a text, an email, an app notification or any other specific action.
It gets its name from when the user enters into a specific virtual geographic boundary, called a "geofence". An example could be a jewelry store sending a social media notification as you walk by the store front announcing "New Fall Jewelry Preview Happening Tonight on Instagram!" with a link to the jewelry store's Instagram profile.
What's the Difference Between Geofencing and Geo Targeting?
Geofencing only delivers content to the user when they're in the virtual perimeter around your jewelry store. Geotargeting, although it sounds similar, is delivering targeted ads to users based on their general location. The type of alerts you send in geofencing can vary considerably, and include texts, in-app messages, social media ads and more.
In other words, with Geofencing, you can be hyper targeted to users that are near your store right that very moment. Understandably, this gives you a great deal of creativity in terms of attracting and retaining customers! With that in mind, here are a few reasons you'll want to get started with geofencing right away:
Improved Targeting
With geofencing, you're able to precision target your prospects -- giving you the ability to reach them at the right time and the right place with the right kind of offer. A timely message or sale could be exactly what you need to get them in the door.
Because geofencing allows you to target prospects that meet specific criteria or are of a certain demographic, you won't be launching your jewelry message out to anyone and everyone, but rather those ideal customers that fit the profile of the shopper you're trying to attract.
Affordability
With better precision-tailored advertising, your costs naturally go down while your engagement goes up. You're targeting prospects with such specific criteria and within such a small geographic "fence" that it's natural to pique their curiosity and encourage them to take action, lowering your spend while improving customer attraction rates.
Better Data Collection
Geofencing allows you to get access to a wide range of interesting and insightful metrics that you may otherwise not have considered. If you own several jewelry stores, for instance, you'll learn which ones are performing best, how long people stay in store as a result of your targeting and how effective your messaging is.
Combining this information with online activity, such as their shopping behavior or their browsing habits can give you a variety of clues as to how you can improve the customer experience overall. You can even use geofencing to create customized follow-ups for customers who have visited certain locations but haven't made a purchase. All in all, the process is very customizable and offers excellent returns.
Unique Customer Experience
Last, but certainly not least, comes the customer experience. With geofencing, you're able to create a more personalized and customizable promotion using the demographics of your local community. This also allows you to leverage local events to really bring out the tight-knit fill of the area your business calls home.
To learn more about geofencing or start your digital marketing strategy, we invite you to reach out to us at Gemfind Digital Solutions! Our decades of experience working exclusively with the jewelry industry has given us the expertise needed to help you launch geofencing campaigns as well as full funnel marketing. Contact us today for a free consultation, we would love to meet you!