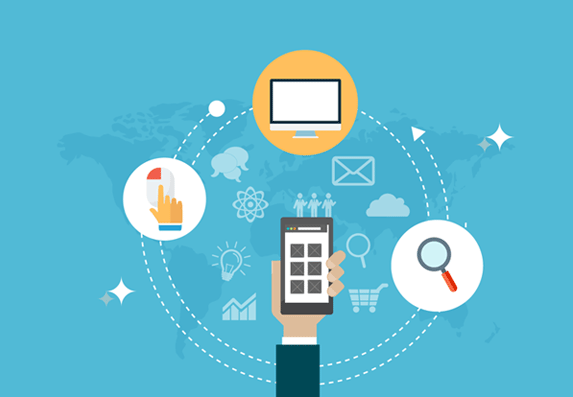 Digital marketing is an umbrella term for all of your online marketing efforts. Businesses leverage digital channels such as social media, email, Google search, and their websites to connect with their current and prospective customers.
With people now spending twice as much time online as they did 12 years ago, how people shop has also changed. What this means is that traditional, offline marketing is just not as effective as it used to be.
So What Exactly is Digital Marketing?
From your website to your online branding assets -- digital advertising, email marketing, online brochures, and beyond -- there's a huge spectrum of tactics and assets that fall under the umbrella of digital marketing. And the best digital marketers have a clear picture of how each asset or tactic supports their overarching goals.
Here's a quick rundown of some of the most common assets and tactics:
Assets
Your website

Blog posts

Interactive tools

Social media channels (Facebook, Instagram, Twitter, etc.)

Online brochures and lookbooks

Branding assets (logos, fonts, etc.)
Tactics
Search Engine Optimization (SEO)
Optimizing your website to 'rank' higher in search engine results pages. This results in increased organic traffic to your website.
Content Marketing
Creating specific content for the purpose of generating brand awareness, traffic growth, lead generation, or customers.
Inbound Marketing
Inbound marketing refers to the 'full-funnel' approach to attracting, converting, closing, and delighting customers using online content.
Social Media Marketing
The practice of promoting your brand and your content on social media channels to increase brand awareness, drive traffic, and generate leads for your business.
Pay-Per-Click (PPC)
A method of driving traffic to your website by paying a publisher every time your ad is clicked. One of the most common types of PPC is Google AdWords.
Affiliate Marketing
A type of performance-based advertising where you receive a commission for promoting someone else's products or services on your website.
Email Marketing
Companies use email marketing as a way of communicating with their audiences. Emails are often used to promote content, discounts, and events, as well as to direct people towards the business' website.
What Are the Main Benefits of Digital Marketing?
Unlike most offline marketing efforts, digital marketing allows marketers to see accurate results in real time. If you've ever put an advertisement in a newspaper, you'll know how difficult it is to estimate how many people actually flipped to that page and paid attention to your ad. There's no surefire way to know if that ad was responsible for any sales at all.
On the other hand, with digital marketing you can measure the ROI of pretty much any aspect of your marketing efforts.
How Long Will It Take to See Results?
With digital marketing, it can often feel like you're able to see results much faster than you might with offline marketing, due to the fact that it's easier to measure ROI. However, it ultimately depends on the scale and effectiveness of your digital marketing strategy.
If you spend time building comprehensive buyer personas to identify the needs of your audience, and you focus on creating quality online content to attract and convert them, then you're likely to see strong results within the first six months.
If paid advertising is part of your digital strategy, then the results will come even faster. However, it's recommended to focus on building your organic (or 'free') reach using content, SEO, and social media for long-term, sustainable success.
I'm Ready to Try Digital Marketing. Now What?
If you're already diving into digital marketing, it's likely that you're at least reaching some of your digital audience. You might be able to think of some areas for improvement, but GemFind is here to help. If you have questions about your current digital marketing strategy or tactics, and want to see how you can improve your efforts, give us a call or complete the form below to speak with one of our experts. Take your digital marketing plan to the next level.